Joe Mangiaracina built a radical 427 cubic inch Windstor for SP 1275 pumping out 682 horsepower and 622 lb-ft of torque. By virtue of the all aluminum Windsor engine, the car weighs in at a svelte 2,440 pounds.
Joe was kind enough to share the built up specs for the engine with us.
RDI "Z-block" M-6010-Z351 aluminum racing block with 9.5" deck height. 4.125" bore.

Callies 4.000" stroke forged crank. Lightened through the main journals and the rod journals.

Rod journals are cut for Chevy rods as the have a smaller bore on the big end than Ford rods. Radiused and lightened (to match the rods) counterweights.

Crower titanium rods. 6.3" long.

Forged J&E aluminum pistons with floating pins.

TFS-R Stage 3 CNC ported heads with Ferrea 2.125" intake valves and 1.625 exhaust valves. Porting done by Bennett Racing. All intake ports, exhaust ports, bowls and combustion chambers match. CNC ported.

Edelbrock Air Under aluminum manifold ported to match the heads and converted to fuel injection.

1300 cfm throttle body.

45lb injectors.

MSD 6AL ignition.

Accel Distributor.

MSD Crank trigger.

ATI harmonic dampener.

McLeod aluminum flywheel.

McLeod twin disc clutch.

Stewart water pump.

Rollmaster timing set.

Comp Cams solid roller camshaft.

Crower roller lifters.

Jesel aluminum Mohawk 1.7:1 intake and 1.7:1 exhaust rockers.

Canton fabricated valve covers and oil pan.

K&N Extreme air filter kit. 3" tall 14" diameter with filter cover. No turkey pan.

Accel computer for fuel injection.

All engine mapping done by Job Spetter from the Turbo People.

Special Superformance headers for TRS-R heads. Superformance was making their first set of these for Dennis Olthof. I got the second set.

Side pipes by Kooks. 4" diameter corkscrew, no mufflers. Full 4" diameter.
Wow! According to Joe, "It flies!"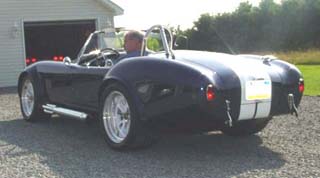 Joe in SP 1275
Indigo Blue/White. Tremec TKO-600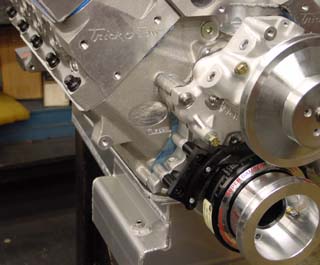 RDI Z-block and TFS-R heads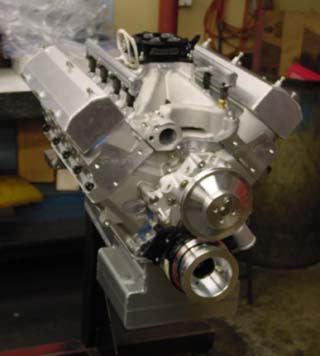 Fuel injection and
trick sheet metal valve covers.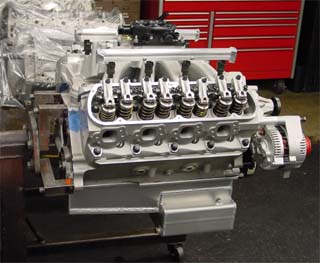 Jesel shaft mounted rocker.