Saturday, June 10, 2006
This morning our great and dear friend Baby Olthoff slipped away from us and went to be with God and her beloved husband Bobby.
Her health had been in decline in recent months. Yesterday afternoon she slipped into a coma while sleeping peacefully at home. She was taken to Lake Norman Regional Medical Center where she died this morning around 1 AM.
Baby and Bobby left South Africa with their son Dennis in 1995 to form Olthoff Racing, the Southeast distributor for Superformance. Bob had a long and successful career racing Cobras and anything else that moved. He worked with the factory in developing and testing the Superformance Cobra replica and was a natural fit for a US Superformance Distributorship.
It was always a family affair, with Bob and Dennis spinning the wrenches and shredding the tires and Baby running the office and chatting up their many friends and customers.
Bob and Baby had a fascinating life together. She loved to share their adventures and mis-adventures with their circle of friends who gathered at the shop. Like the time Bob hooked the wing of his Tiger Moth in the window of a Volkswagen and she wound up sliding down the road still strapped in her seat.
Every time an expensive part would yield to the stress of spirited driving, she would roll her eyes, smile that knowing and forgiving smile, and mutter "Boys".
Bob and Baby left the family business in good hands. Dennis is a chip of the old block on both sides. His sister Cheryl and her husband Merlin Pogson moved from South Africa a couple of years ago to add their considerable talents.
A new generation, Emory, Graeme, Kaylyn, and Aidan, are growing up around high performance machines as naturally as most kids take to a swing set. And why not. It is in their blood.
We will miss Baby just as we miss Bob. But we can take joy in knowing that they are no longer missing each other.
Memorial Service
A service in celebration of Baby's life will be held Tuesday, June 13 at 4:00 PM at:
Thyatira Presbyterian Church at Mill Bridge
220 White Road
Salisbury, NC 28147
From the Olthoff shop, go 1.0 mile northeast on Mooresville Road. Take a left of White Road. You will be looking directly at the church. It is where Dennis and Alison got married and where Bob's service was held.
Memorial Gifts
The family asks that memorial gifts be made to:
Rowan County Animal Shelter
c/o Rowan County Health Department
1811 E Innes Street
Salisbury NC 28146
Attention: Clay Martin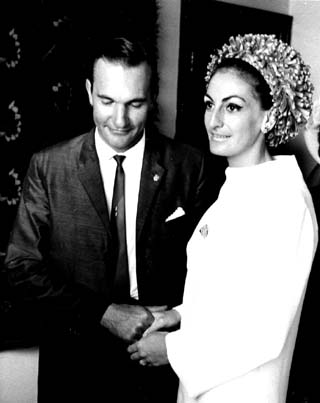 Bobby and Baby
Wedding Day 1969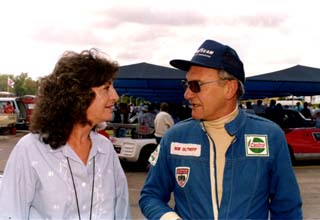 Baby and Bobby
At The Races in South Africa 1980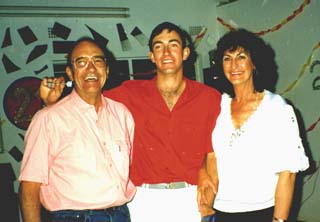 Bobby, Dennis, and Baby
Dennis Turns 21, South Africa 1993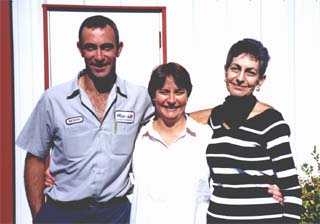 Dennis, Cheryl, and Baby
Olthoff Racing 2004