Bob Olthoff, well known in international motor sport circles and the winningest race car driver in South African track racing history, passed away after a brief but fierce fight against cancer.

Beloved husband, father, and friend, he passed away Sunday morning, April 18, 2004, at Rowan Regional Medical Center in Salisbury. Bob was an international known and highly respected race car driver and developer. Born in Pretoria, South Africa, in 1937, he attended Krugersdorp High School. He began racing early and achieved considerable success in his native South Africa. His skill caught the attention of local promoters and he was encouraged to move to Europe. He successfully raced the MGA and Austin-Healy in both Europe and the United States and landed a spot developing and racing the legendary Cobras with the John Willment team. After the Cobras won the World Manufacturers Championship, Bob returned to South Africa with a stable of Willment cars including two Cobras and a Holman-Moody prepared 427 Galaxie, with which he won the Saloon Car Championship. He won the the Sports Car Championship in 1966 and 1967, the Formula 5000 Championship in 1970, and set the South African land speed record at 178 mph on a closed public road in a McLaren-Elva that Bob personally owned, developed, and drove.

In his long and successful career, Bob earned over 140 victories making him the most successful racer in South African history. His skills were not limited to the tracks. He also enjoyed considerable success as an off-road racer and in airplane racing with his Tiger Moth and other aircraft.

In 1997, Bob moved to Mt. Ulla with his wife Baby and son Dennis. Together they opened the Southeastern distributorship for Superformance, the South African manufacturer of replicas of the legendary 427 Cobra and more recently the Brock Coupe, a modern Grand Touring rendition of the Word Championship winning Daytona Coupe. Bob and Dennis, a talented and successful race driver in his own right, have successfully raced the Superformance machines throughout the United States, adding considerably to their string of victories. Their skills in car development and driving have been instrumental in establishing Superformance in the United States and making their distributorship the second largest in the world. More than a successful driver and businessman, Bob was a friend and mentor to many who wanted to own and skillfully drive a high performance sports car.

Bob is the son of Robert Webster Olthoff and Hester Sophia Olthoff of South Africa, now deceased. He is survived by his wife Baby of Mt. Ulla, their son Dennis Olthoff of Salisbury and wife Alison and son Emery, and their daughter Cheryl Pogson of Hermanus, South African and her husband Merlin and children Kaylyn and Aiden.

The memorial service was held Wednesday, April 21, 2004 at 11:00 AM at Tyatira Presbyterian Church, 220 White Road, Mill Bridge, NC. Reverend Sandy Kern officiated. A reception and lunch in the church fellowship hall followed the service. (White Road is one mile east of the Olthoffs' shop on NC-150. The church is 1/4 mile north of NC-150 on the left.)

Arrangements were handled by the Linn-Honeycutt Funeral Home of Landis, NC.

In lieu of flowers, the family asks that contributions be made in memory of Bob Olthoff to Rowan Regional Hospice, 825-A Henderson St. Salisbury, NC 28144.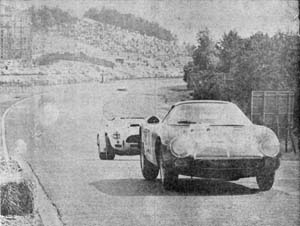 Zolder, Belgium
CSX 2130
Bob's personal Cobra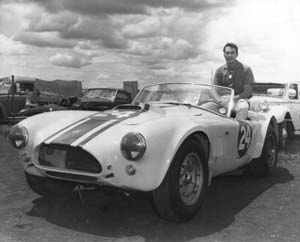 Bulawayo, Rhodesia
CSX 2142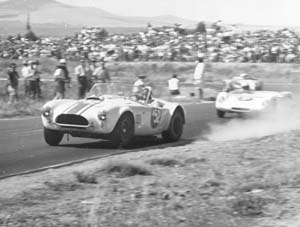 Kilarney, South Africa
CSX 2142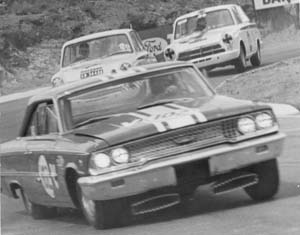 Kyalami, South Africa
Ford Galaxie / Holman-Moody 427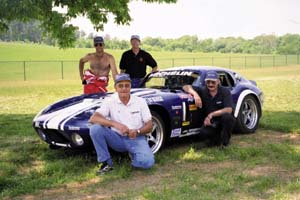 With the Coupe Prototype at VIR