On the Road to SAAC-31
The Flight 93 Memorial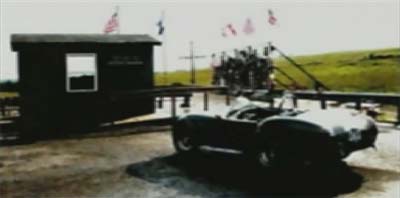 Jimmy Kaufman and SP 2246
When Jimmy Kaufman decided to venture south from his home in Montreal to SAAC-31 at Virginia International Raceway (VIR), there was no thought of skipping over everything in between at 36,000 feet. Jimmy is a photo journalist and film maker. Life is a photo opportunity. And what better way to immerse yourself in your surroundings than a back road journey in the open cockpit of his 427 cubic inch Superformance Mk III.
His journey along the back roads of Canada and America took him through southern Pennsylvania, to Shanksville, up SR1007, and out Skyline Road to the Flight 93 crash site. As a tribute to the heros of Flight 93 and to all those who died and all those who survived September 11, 2001, Jimmy put together a memorial film clip. It is a touching tribute set to some soulful music and we are grateful to Jimmy for sharing it with us.
You can play the clip by clicking on the link below. It plays in about 3 minutes. It takes about 2 minutes to download on a high speed internet link, so be patient. It is worth it. The clip requires the QuickTime player. A free version of the player can be downloaded from QuickTime if you don't already have it.
To play the Flight 93 Tribute, click here.
To download the free QuickTime player, click here or go to Download.com and search for QuickTime.
You can see more of Jimmy's work at JimmyFilm.net