Commentary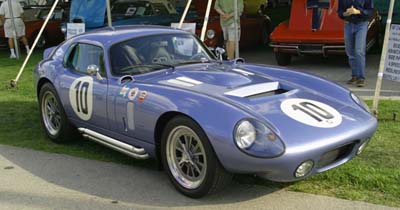 SPC0100 on display before the auction.
The auction was held on April 1, 2006, in West Palm Beach, Florida. Carroll Shelby and Peter Brock were on stage together to promote the car. Bidding was brisk. The winning bidder was so pumped he was literally jumping up and down. The sales price - an amazing $270,000.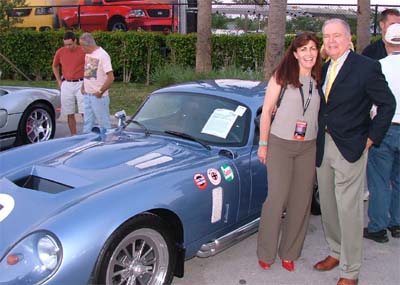 The car, SPC0100 shown with Gayle and Peter Brock, is Portofino Blue with Wimbledon White roundels and half cover with the number 10. The engine is a Roush 427 Windsor with the Roush 8-stack electronic fuel injection. The transmission is a Tremec T-56 6-speed. In the Barrett-Jackson photo (top) the wheels and mirrors are BRE (Brock Racing Enterprises) items. As sold the car had factory wheels and mirrors. The car was offered by Park Place, Ltd, the Washington Superformance dealer. It was prepared by Olthoff Racing, the North Carolina Superformance dealer.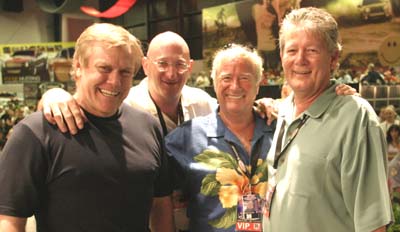 From left to right: Craig Jackson (Barrett-Jackson), a happy bystander,
David Bingham (Park Place) and Butch Bockmeier (Park Place)
The most asked question has been about the "limited run of 100" in the Barrett-Jackson announcement material. As I understand it, production of the Coupe was stopped at SCP0100 so that a number of engineering changes could be incorporated. Production will resume later this year.
Mike Stenhouse