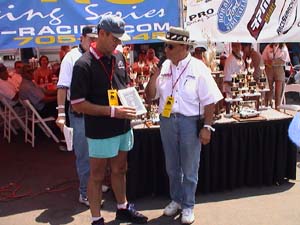 First Place Trophy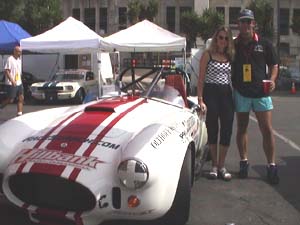 Dennis and Debbie before the Race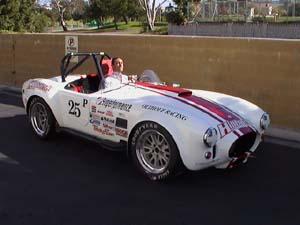 Heading for the Starting Grid
Down the Straight!
Rob Ginn Photo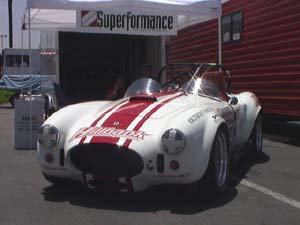 The Amazing SP245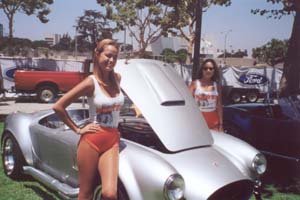 LA Super Citizens Survey Sleek Silver Superformance
Rob Ginn Photo
Hillbank Motors, the Southern California Superformance dealer, and Olthoff Racing, the Southeastern Superformance dealer, teamed up to race and win in the Cobra Cup event. The event took place on July 15-16, 2000 at the LA Street Race.

On Friday the transponder on the Superformance Mk III, driven by Dennis Olthoff, did not record his practice times correctly so for the qualifying race on Saturday he was placed at the back of the field. It was awesome watching Dennis, in the number 25 Superformance white and red Mk III come up from the back of the field to quality in pole position. He had a tough challenge from the No. 99, the Black Mustang driven by Dan Lucklow who was piped to win. On Sunday, we all watched anxiously as car number 43, (the practice leader) a white Mustang with blue stripes overtook Dennis, only to hit the wall a short time later sending debris all over the track.

It was brilliant driving on Dennis's part, as he not only avoided the Mustang, which crossed the track right in front of him, but he missed all the debris as well. He went on to win the race by 06.76 seconds, remaining in first place for about 5 laps. In second place was car number 99. In third place was another Cobra, number 46 driven by James Wells Junior.

Thank you to Dave Bouzaglou of Pro Racing and the other organizers, sponsors and drivers for an enjoyable event. We would also like to thank Jim Price of Superformance for making it possible. Congratulations to all for making the event a success.

Commentary by Mike Stenhouse
Second Strike

Dennis created quite a stir with this incredible come from behind performance. One unhappy spectator even put a post on the Club Cobra forum branding the car as a one off, tube frame, factory built special with a modern high-tech engine and only a vague resemblance to a Cobra and it had no business running with mortal Cobras.

How wrong he was. As it turns out, SP245 is a pretty much off the shelf Superformance Mk III with some reasonably period correct competition changes.

SP245 is quite similar to my basically stock SP218, which has seen 19,000+ street miles and a number of track events. Both bodies were made in the same mold as every other Superformance and are dimensionally and visually correct. Both cars have the standard Superformance chassis and suspension. Both cars have the Ford 351 Windsor engine introduced in 1969 as the big brother of the 289 that carried the original Cobras to their World Championship. Both engines have TFS Twisted Wedge heads, a Holley four-barrel, and the same Superformance headers and side pipes.

There are differences. SP245 has the then optional (now standard) Wilwood brakes, an aero windshield, a competition engine with about 100 more ponies, a competition drivers seat, impact side beams in the doors, a four-speed tranny, and a fuel cell. Like many people who race, Dennis has switched to 17" rims to get the V and Z rated tires needed for competition.

The other difference of course is the driver. Dennis Olthoff is really good.

When you take a really good car, prepare it well, and drive it well, you will win your share. I for one am excited to see somebody win in a car that costs less than the upgrades in the typical tuner Viper. Cars like this make racing affordable again.