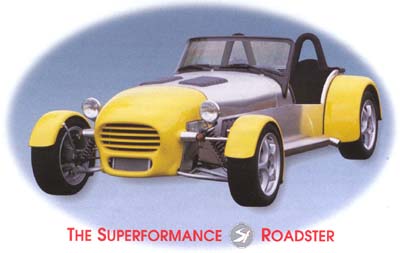 The Superformance S1 Roadster
in the spirit of Colin Chapman's legendary Lotus Seven
with modern technology to make it even better.
Another complete replicar from Superformance re-engineered for today's demands.
The Superformance SI Roadster is sold complete minus engine and transmission.
The engines and transmission listed here are two of the recommended packages
for customer installation and are intended merely to illustrate potential performance.
Photos of first production model at the Hi-Tech Superformance
production facility in Port Elizabeth South Africa.
TECHNICAL SPECIFICATIONS
CHASSIS
Lightweight tubular steel space-frame with integral rollover protection.
BODY.
Hand crafted in aluminum-alloy body with Glass/Carbon/Kevlar reinforced panels.
FRONT SUSPENSION
Double wishbone control arms with castor and kingpin angle adjustment. Billet machined aluminum-alloy uprights with independent camber adjustment. Adjustable coil-over damper units.
REAR SUSPENSION
Live axle located with four trailing arms and state-of-the-art mumford linkage, giving optimum roll center control. Rising rate bell-crank linkage with adjustable coil-over damper units. The compact suspension package much improves rear trunk space with enhanced handling, performance, and ride comfort.
STEERING
Rack and pinion steering. 3 turns lock to lock. Turning circle - 27 ft.
PEDAL BOX
Rake adjustable pendulum pedal set incorporating brake balance bar.
FRONT BRAKES
Ventilated discs with lightweight Wilwood 4-pot calipers.
REAR BRAKES
Solid discs with Wilwood 4-pot calipers. Wilwood spot caliper hand brake.
TRANSMISSION
Five-speed close ratio short throw manual gearbox. Superformance cast aluminum bell housing. Optional limited slip differential.

DIMENSIONS AND CAPACITIES
FUEL TANK
10.6 gal / 40 l
VEHICLE DRY MASS
1430 lb / 650 kg
GROSS VEHICLE MASS
1980 lb / 900 kg
OVERALL LENGTH
128 in / 3.250 m
OVERALL WIDTH
68.5 in / 1.740 m
OVERALL HEIGHT
40.6 in / 1.030 m
LUGGAGE VOLUME
49.44 cu. ft. / 1400 l

ENGINES, WHEELS, TIRES
2.0 ENGINE
160 bhp Zetec 2.0 liter 16V with Pectel closed loop lambda engine management and catalytic converter.
WHEELS AND TIRES
7.0J15 alloy wheels fitted with 195/50VR front and 205/50 VR tires rear
0 TO 60 MPH
5.3 seconds
MAXIMUM SPEED
125 mph
FUEL CONSUMPTION
38 mpg at 60 mph
30 mpg overall
BRAKING FROM 60 TO 0 MPH
2.7 seconds
2.0 TURBO ENGINE
Mountune turbo charged 220 bhp Zetec 2.0 liter 16V with Pectel closed loop lambda engine management and catalytic converter.
WHEELS AND TIRES
7.5 x 16 alloy wheels fitted with 205/50VR front and 225/45 VR tires rear
0 TO 60 MPH
4.8 seconds
MAXIMUM SPEED
136 mph
FUEL CONSUMPTION
36 mpg at 60 mph
28 mpg overall
BRAKING FROM 60 TO 0 MPH
2.7 seconds