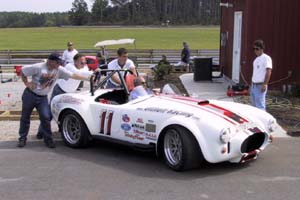 Dennis and Bob instructing a couple of rookies on the correct technique for water-skiing on asphalt.
Billy and Rosemary O'Briant with matching driving suits. Way cool dudes!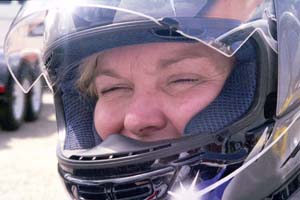 OK Pat, we're back. You can open your eyes now!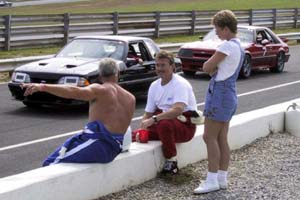 Tony and Angela Spence with Billy O'Briant exhorting the Mustangs to greater speed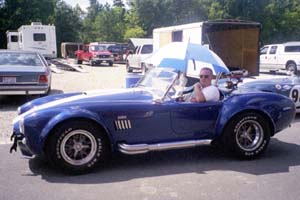 Not as weather resistant as the original top, but it goes up quick!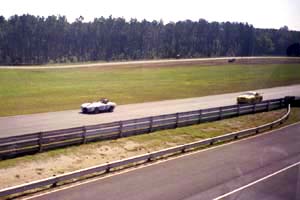 The King of the Sports Cars
and the King of the Mustangs
duke it out down the straight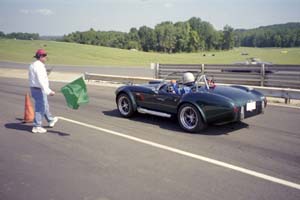 Jeff Robb launches the beautiful and quick Malachite Green SP443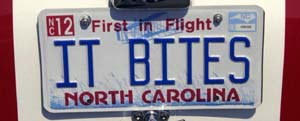 As always, creative plates abounded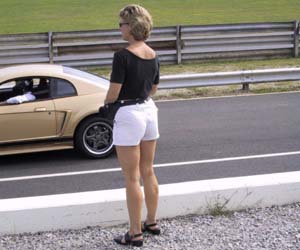 A fan watches Mark Ray stage his 2000 Mustang with Vortex supercharger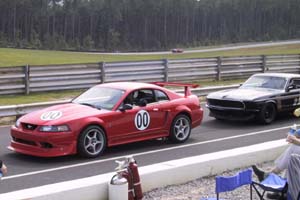 A potent 2000 Mustang Cobra R followed by an 1967 Mustang with a wild 427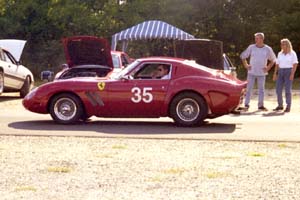 Lee Davis showed up with his
Datsun Z based 300 Berlinetta GTO.
This gave rise to some historically interesting images on the track.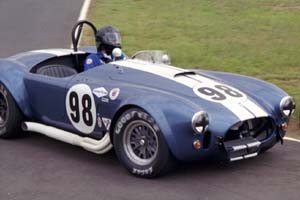 Steve Sunshine brought his CSX 4000 down from New Jersey
The Folks
There were quite a few families and a number of spouses and other family members taking a turn behind the wheel.
The Superformance Mk III's
Dick Abbott SP 195
Lee Brock SP 427
Becky Brock
Sons - Eric and Tyler (both went with Bob and Dennis around the track)
Kenny Brown SP 285
Sharon Brown
Son David
Daren Cave SP 580
Mickey Cave Co-driver - Daren's brother
Wife Annette (she also drives the car often)
Daughter Rachel. Daren took Rachel around the track in his T-Bird during the open session - she was absolutely thrilled (Age approximately 4)
Mike Caveness SP 311
Beth Caveness Co-driver
Sons Brian and Christian
Dean Coates SP 606
Mike Allen Co-Driver
Dean's girlfriend Avis was also in attendance
Dan Cullather SP 648
Joyce McEwen Co-driver
Terry Freck SP 263
David Freck Co-driver Terry's brother
Kevin Frederick SP 774
David Frederick Co-driver Kevin's dad
Kevin's wife Lynette also attended
Jerry Hall SP 615
Francine Hall Jerry's wife attended.
Gene Harris SP 670
Sandy Harris Gene's wife - passenger
Bob Jordan SP 181
John Klein SP 572
Jake Klein Co-driver John's son
Ralph Lovelace SP 544
Carol Lovelace Co-driver
Mac McCombs SP 732
Bill McCombs Co-driver - Mac's son
Mac's wife Peggy also attended
David McRae SP 151
Walt Malcolm SP 313
Bubba Saunders Co-driver - Walt's brother-in-law
Lou Matthews SP 256
Carol Matthews Co-driver
Billy O'Briant SP 453
Rosemary O'Briant Co-driver
Son Slade also attended
Carl Page SP 735
Chris Phelps SP 674
Scott Lalone Co-driver
Richard Pike - SP 705
Gerry Poynter SP 534
Angie Poynter Co-driver
Marvin Preble SP 607
Scott Surrett Co-driver
Eric Preble (Marvin's grandson) attended.
Richard Price SP 746
Doug Reed SP 116 One Lap Car
Ronnie Reed Co-driver. Doug's brother
Chuck Bacigalyn - Other Bordeaux One Lap car.
Pete Tufaro Co-driver
Pete Jr Co-driver
Mark Rhoades SP 603
Bradley Davis Co-driver
Jeff Robb SP 443
Tony Spence SP 197
Angela Spence Passenger
Mike Stenhouse SP 218
Pat Stenhouse Passenger
David Sugg SP 239
Bill Sullivan SP 487
James Thomas Co-driver
Rod Waltermann SP 227
Lisa Waltermann Co-driver
Alan Wisne SP 345
Kathy Wisne Co-driver
Jerry Witt SP 410
Ed Zaptin SP 714
Ed Zaptin Jr Co-driver
John & Amy Klacik SP 421
Attended but didn't enter their car
Mark Smith SP 803
Attended on Saturday. He is doing his own installation and his car isn't ready yet.
The Mustangs
Wade Brown - Mustang Cobra
Dr Ed Bull - 86 SVO Mustang
Vicky Chafin Co-driver
Bobby Byrd - 93 Mustang
Kevin Underwood Co-driver
Rich Fekete - '84 Mustang
Andy Killian - Mustang
Andy Kirby - '90 Mustang
Dean Ruth Co-driver
Anthony Moretz - Ford Mustang
Nathan Moretz Co-driver
Chad Moretz - Ford Cobra Mustang
Rick Long Co-driver
Earl Morris - '85 Mustang
Mike Morris Co-driver
Jerry Mullins - '86 Mustang
Don Pendleton - Mustang GT
Patsy Lyda Co-driver
Steve Pendleton - Mustang
Don Pendleton Co-driver
Mark Ray - Mustang 2000
Will Sadler - Mustang
Kim Sadler Co-driver
Jerry Schneider - '69 Mustang
Craig Ring Co-driver
Mark Lamaska Co-driver
Bryan Shugg - Mustang
Robert Thornton - Mustang Cobra
Ed Turner - Mustang
The Others
Bill Bradford - Ford Thunderbird
Fred Washam Co-driver
Lee Davis - 300 Berlinetta GTO
Wade Schaible Co-driver
Mitch Franklin - NAF Cobra Replica
George Moretz - Porsche
Dan Ostrower Porsche 944
Walter Holle Co-driver
Steve Sunshine - Shelby CSX 4000 Series Cobra Replica