One Lap of America 2000
Dennis Olthoff and Doug Reed entered a pretty much off the shelf Superformance Mk III in the 1999 One Lap of America. Unimpressed, the event organizers seeded them 87th.
Their performance caught everyone by surprise. Driving well indeed in the very quick and brick reliable SP116, Dennis and Doug placed first in class and fourth overall.
The 2000 event would see four Superformance players.
David Sugg and Doug Reed would be teamed together in SP116, last years winner. David is president and owner of TecRep, a manufacturer's representative firm in Cornelius, North Carolina - halfway between Charlotte and the Olthoff's shop in Mt. Ulla. Doug is the Louisiana Superformance dealer and owner of the car.
Dennis Olthoff, primary driver of last year's winner, would be driving the brand spanking new Superformance Coupe. With him would be Mark Ray of Mark Ray Motorsports, a Mustang high tech speed emporium located at Charlotte Motor Speedway in Harrisburg, North Carolina.
The Superformance Coupe arrived unfinished less than a week before the first event. Completing it in time would be a Herculean effort. Being competitive with absolutely zero development and testing time would be next to impossible. But that didn't keep true competitors like the Olthoffs from stepping up to the plate.
Barry Naquin and Clay Gould made their way from Louisiana in a virtual duplicate of last year's winner - right down to the Doug Reed special Bordeaux paint job.
Barry Kline and Jim Roxbury brought their all black Superformance Mk III from Minnesota. (They didn't make the cover because I don't have a picture of them.)
The story of One Lap of America was reported online and nearly real time on our web site.
David Sugg took his digital camera and laptop and dropped off stories and photos on my FTP site as the event unfolded. Dennis phoned in regularly with updates on the Coupe. These were incorporated into the web site within a few hours.
The balance of the newsletter is that story as reported (with a few embellishments). So sit back and go racing with the boys in the One Lap of America. Enjoy! It doesn't get more real than this unless you are behind the wheel.
This Year's Events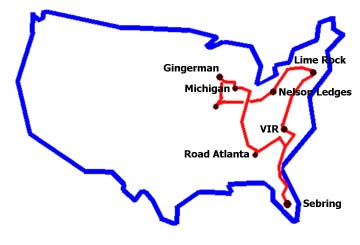 The competitors complete a 4,186 mile lap of the eastern half of the United States in seven days. Each day, they compete in one or more timed trials at a track facility along the way, then drive to the next track. Altogether, there all a total of fifteen timed events, all speed trails. There are no drag races this year.
The speed trails are two or three laps from a standing start. Scoring is a modified NASCAR system. The event winner gets 565 points (5 times the number of competitors). Second gets 560 points and so on. A DNS/DNF (did not start/did not finish) gets zero (0) points. The overall score is the sum of the 15 event overall scores.
Class scoring is similar. A class with 8 entries has 40 points for first in class per event. Second gets 35 and so on. The overall score is the sum of the 15 event class scores. A quirk in this points system is that one car can be ahead of another car in the class standings and behind it in the overall standings. It does happen.
A track map and description is included with each event. The map comes from the official route book given to each competitor. The description gives you an idea about the track, the event, and the grinding drive from track to track.
There are penalties. Hitting a course marker or cone adds 10 seconds to the lap time per hit. Ten seconds is typically worth 5 to 10 positions, which are worth 25 to 50 points.
There are three checkpoints along the way. If the competitor fails to pass through the checkpoint in the specified interval, then 50 points are deducted from their score. And 50 points are the difference between 1st and 10th in an event.
If you look at the schedule carefully, you will notice that the competitors are allowed sufficient time to get from one event to the next at legal speeds, provided that they do not stop for food, water, gas, or sleep. Actually getting some sleep during the week in something other than the passenger's seat of a moving car becomes a challenge. "RRR&R" is the total free time for Rest, Refreshment, Repair, and Refuel. It is calculated based on an average trip speed of 60 mph. At total of 26.5 hours for the week!
The Schedule
| | | | | | |
| --- | --- | --- | --- | --- | --- |
| Venue | Events | Time Allowed Hours | Distance Miles | Layover Hours | RRR&R Time Hours |
| Gingerman | 1 | | | | |
| Michigan | 1 | 2.50 | 131.64 | | 0.3 |
| Atlanta | 2 | 14.00 | 721.62 | | 2.0 |
| Sebring | 2 | 15.00 | 721.21 | 1.0 | 2.0 |
| VIR | 2 | 17.00 | 744.35 | 1.0 | 3.6 |
| Lime Rock | 2 | 17.00 | 642.95 | | 6.3 |
| Nelson Ledges | 2 | 17.00 | 566.92 | 1.0 | 6.6 |
| Gingerman | 3 | 17.00 | 642.71 | 0.5 | 5.8 |
| Total | 15 | 99.50 | 4,171.40 | 3.5 | 26.5 |
How Did All This Get Started?
In 1916, Erwin G. "Cannonball" Baker and W.F. Strum drove a Type 53 Cadillac V-8 roadster from Los Angeles to New York City in a record seven and a half days. The distance was about 2800 miles. (If you can't tell where the roads are, who can be sure about the distance). Their average speed was about 16 mph.
Fast forward 55 years to 1971. Brock Yates and Car and Driver magazine sponsored the first of nine annual clandestine cross-country automobile rallies. They named it after the hero of the 1916 dash - "The Great Cannonball Baker Sea to Shining Sea Memorial Trophy Dash".
The participants left New York at discrete intervals and arrived in Long Beach some time later. The choice of vehicle was completely open. The choice of route was completely open. The choice of driving style was completely open. There was in fact only one rule. The lowest elapsed time won.
Although routinely reported as a rally style event, it was in practice a cross-country race. The elapsed time worked its way down to 33 hours - an average speed of around 85 miles per hour. My long distance driving experience tells me that you have to routinely drive 120% of your average speed to make up for pit stops, towns, and traffic control devices like stop signs and traffic lights (assuming that you pay attention to such things). That would mean routine cruising is excess of 100 mph. Clearly some major speeding was going on! And this was in the days of the federally mandated 55 mph speed limits.
The last event was run in 1979. It was decidedly politically incorrect. It had the attention of law enforcement officers countrywide. It became increasingly difficult to explain the winning elapsed times without admitting to speeding somewhere along the way. ("I crossed Nevada in 15 seconds" was not acceptable.) Too flagrant, this nose thumbing at the laws of the land.
The event was reorganized in 1984 as the One Lap of America. In the inaugural event, the competitors left New York, drove a specified route to the four corners of the country (a distance of about 10,000 miles), and returned to New York about a week later. No real time constraints, no need to speed. The car that clocked the closest to the specified (but secret) target mileage won the event. Legal. Dull. The greatest challenge was not killing your co-driver for offensive behaviors brought on in part by being confined in a small space for a week and in part by the consequences of a road food diet.
In 1991 the event moved to its current format. Since then, the One Lap of America has evolved into a demanding event extracting the most from the cars and the drivers.
As it exists today, the One Lap of America is patterned after the famous and grueling Tour de France FIA competition reported in Second Strike Volume 2, Number 2. (Not the bicycle race, the car race.)
The competitors completed a 4,200 mile lap of the United States in seven days. Each day, they competed in one or more timed trials at a track facility along the way, then drove to the next track. Altogether, there were a total of fourteen timed events, twelve speed trails and two drag race events.
It is truly becoming a world class event requiring power, handling, braking, reliability, and economy of operation from the cars and skill and stamina from the drivers.
Click on "Superformance" to continue...