| | |
| --- | --- |
| February 19, 2000 | Volume 3, Number 1 |

Row 1: Bob Jordan (SP181), Mike Thurwachter and Dennis Olthoff (SP245), Sara Thurwachter and Bob Olthoff (SP120), Lister Chevy
Row 2: Doug Reed (SP116), GT40, Gary Greeny (SP393), Corvette Super Sport
Row 3: Shannon Witt and Jerry Witt (SP410), Cobra Replica, Mike Sugarman (SP348), Cobra Replica with Viper V10
Row 4: Clay Gould, Michelle Brown and Kenny Brown (SP285), Jerry Mullins (SP210)
Row 5: Mike Brunelle (SP358)
Superformance dominated the front rows on the Parade Lap, a domination that continued throughout the event. Superformance was well represented in participation and well represented in the final standings at the end of the event. There were 90 cars entered in 1999, up from 63 in 1998. Of the 90, 19 were Superformance Mk III's. When the dust settled, Superformance dominated the winners circle. Of the six top trophies, Overall Top Dog, three class Top Dogs, King of the Drags, and King of the Autocross, Superformance took four.
Bob Olthoff
- Overall Top Dog
Bob Olthoff
- Pro Top Dog (tie)
Clay Gould
- Pure Street Top Dog
Dennis Olthoff
- King of the Autocross
Superformance also dominated the class standings. Class winners were:
David Sugg
- Pro A Autocross
Dennis Olthoff
- Pro B Autocross
Jerry Mullins
- Street A Autocross
Steve Miller
- Pure Street A Autocross
Gary Grenny
- Street B Drags
Clay Gould
- Pure Street A Drags
Kenny Brown
- Pure Street A Road Course
The classes were Pro, Street, and Pure Street based primarily on tires and street legality. The sub-classes were A for big blocks, B for small blocks, and C for 4 and 6 cylinder engines.
Gateway International Raceway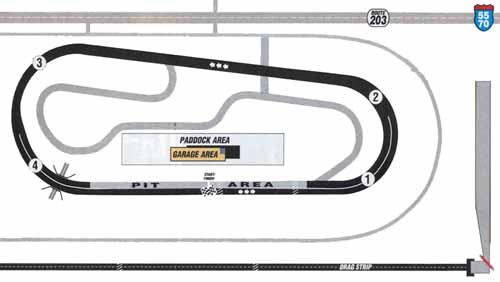 Run and Gun Photo Gallery
| | |
| --- | --- |
| | Parade Lap. |
| | Jerry Witt checking the line in SP410 on the road course. |
| | Bob Olthoff in Nick di Bruno's SP120 takes on Kenny Brown in SP285 in the drags. |
| | Four Superformance Mk III's and a GT40 down the straight. |
| | David Sugg in SP239 on the road course. |
| | Doug Reed in SP116 in the drags. |
| | From the left: Mike Brunelle in SP358, Clay Gould, Kenny Brown, and Jerry Mullins in SP210. Number 84 has a Viper V10. |
| | Pit road, from the left: SP120, SP245, and Bob Jordan in SP210. |
| | Mike Thurwachter, Dennis Olthoff and Bob Jordan tune up SP245. Who is that masked man under the hood? |
| | Kenny Brown leads Clay Gould on the road course. |
Run and Gun 1999 was by all accounts a little chaotic. The rules seemed a bit fluid. The number of events and participants overwhelmed the tight schedule. Completing all events would have been possible only if everything went perfectly. It didn't.
The scoring was supposed to be based on combined drag race, autocross, and road course results. However, most competitors did not get to run the road course, so scoring was based on drags and autocross only.
As a tribute to the nineteen Superformance owners that made the trek and fought the good fight, I have painstakingly reconstructed the results of Run and Gun 1999 from the rather ambiguous reporting done in the February 2000 issue of Kit Car Illustrated. I will not duplicate their coverage of the event here. I will however add the one thing that they omitted - the standings.
So check out the Autocross, Drags, Road Course, Class Top gun, and Overall Top gun results.