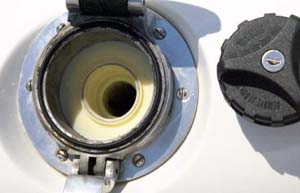 The LeMans or Monza style gas cap fitted to the 427 S/C Cobra is a quick release cap with a funnel shaped fuel neck to provide for rapid fueling in a pit stop. It has been used in Cobras and other competition oriented cars since the fifties.
Quick refuel - yes. Tight seal - no. Never did, still doesn't, as anyone who has auto-crossed with one can tell you. The streak down the right rear fender says, "I've been racing today."
The gas cap adapter is particularly important if you flip your car, which some folks have done. It keeps the fuel from running back out the filler neck and creating a fire hazard.
Dennis Olthoff (Olthoff Racing) and Kenny Brown (SP285) developed a snap-in adapter that uses a locking gas cap. The Le Mans gas cap continues to function as always and covers the locking gas completely.
Models
There are different models of the adapter:
Early Model for cars up to 565. These fit cars with a sand cast or roughly machined (some sand cast showing) filler funnel.
Late Model for cars over 565. These fit cars with a fully machined (no sand cast showing) filler funnel. It is 1/8? shorter than the early model to allow for the additional machining.
Cars after 800 have a gas cap adapter built in at the factory.
Installation
If the Early Model is installed in a Late Car (over 565), it will be loose. The entire filler will have to be removed to get it out.
If the Late Model is installed in an Early Car (up to 565), the ears will not lock into place. It will not stay in.
Clearly it is necessary to have the correct model for your car.
See the Installing the Gas Cap Adapter PDF download.
Current Status
The adapter was developed in 1999 and offered to all owners at that time. The Early Model adapter is now out of stock. A few of the Late Model adapters are still available.
The original locking gas caps are no longer available. The replacement model locking gas cap can be machined to work.
If your car is 565 or earlier, you can order the factory filler neck with the built in adapter (for cars 800 and over) from Superformance and retro-fit it to your car.
If your car is 566 to 799, email Mike@SecondStrike.com for availability and price of the adapter.