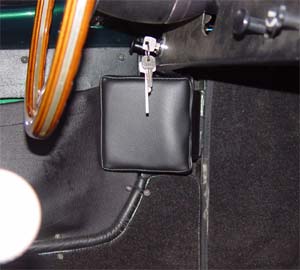 Itís a knee pad for the hinge on the driverís door. It serves as a padded knee brace in track events. No more bruised knee. We have sold out on the second day of track events every time we have offered them. That should tell you something!
It is also very comfortable as a knee resting place on long trips. The knee pad is useful for your passenger as well.
SP218 has had knee pads for both the driver and passenger for several years and they work like a charm. Sometimes the little things make a big difference.
No tools are required for installation and no modifications are required to your car. It is easily and securely attached via Velcro and a safety strap.
The knee pads are hand made by a noted custom automobile upholsterer. The price is $38.00 each including shipping.
Order with the Second Strike Order Form.