First Edition
The Coupe Owners Manual is 5.5 by 8.5 format with a plastic spiral binding. It is 108 pages long and includes the specifications, operational information, and detailed electrical information. The Superformance Coupe Owners Manual has been available since November 19, 2004.
As owner completed cars, our cars are as unique and individual as the people who drive them. You will find places to enter information about your particular car to complete the manual.
The manual was compiled by Brett Jackson at the Hi Tech factory in South Africa. It was edited, printed and distributed by Mike Stenhouse of Second Strike, the Superformance Owners Group.
The manual is being published by Superformance LLC in Irvine, California. Many thanks to Lance Stander and his crew for their support in this project.
Thanks also to the folks at Olthoff Racing for their invaluable assistance with the technical verification of the information in the manual.
Mike Stenhouse
Second Strike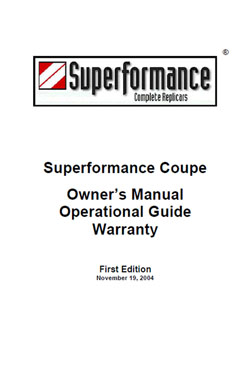 The manual is stocked in the Superformance LLC facility in Irvine CA and is included with all new sales. Copies of the manual can be purchased from your Superformance dealer.
If your dealer does not have the manual in stock, you can order it from Second Strike using the Second Strike Order Form. The price is $32.00 including shipping.
In stock and shipped from stock.