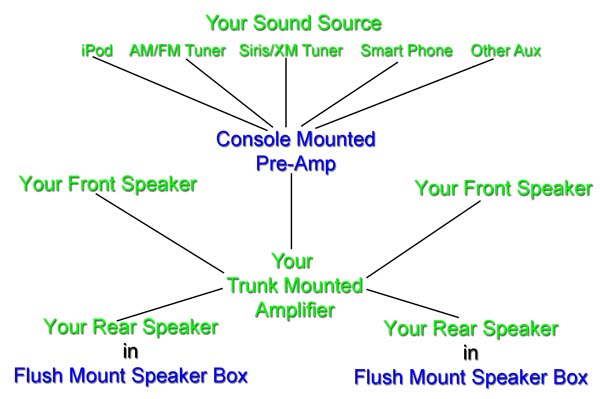 The Second Strike Store offers the following optional Mk III specific custom components as the foundation for your audio system:
 Console
 Console Mounted Pre-amp
 Flush Mount Speaker Boxes
To which you add your choice of components available from your local electronics or car audio store or online:
 Trunk mounted amplifier
 Front speakers
 Rear speakers
 And of course, the source of the sound
Console Mounted Pre-Amp
The Console mounted pre-amp can be added at the time of Console purchase.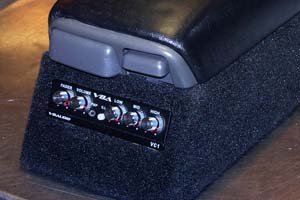 Audio System Controls
The controls are mounted on the front of the console and can be easily used while the car is in motion. Controls include front-rear fader, volume, and bass, mid-range, and treble adjustments.
The high quality V8 Audio VC1 miniature
Pre-Amp is made specifically for automotive use and fits snugly in the front of the console.
Front and rear jacks are provided for several types of auxiliary input.
The Console Mounted Pre-Amp is available installed in the Console for $125.
Flush Mount Speaker Boxes
The Flush Mount Speaker Boxes are designed specifically for the Mk III to work effectively behind the seats with no cutting of the bulkhead required. They are covered with carpet matching the interior carpet giving them a factory installed appearance. The speaker boxes mount to the rear bulkhead behind the seats with two small screws per box (recommended) or Velcro.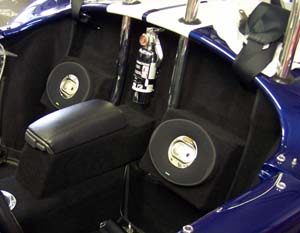 Flush Mount Speaker Boxes
The Flush Mount Speaker Boxes are designed for standard 6x9 automotive speakers. They can be ordered pre-cut for 6x9 speakers or blank for you to cut to fit your speakers.
The Flush Mount Speaker Boxes are available from the Second Strike Store either with your Console order or separately for $150 a pair.
Trunk Mounted Amplifier
The recommended amplifier is the Alpine Model F 240. It is perfect size and has ample power. Its performance has been tested to 100 mph. On a closed course with professional driver and proper safety equipment of course.
Rear Speakers
The Infinity Kappa Model 693.9i 6x9 3-way speakers are recommended for performance and weather resistance.
Front Speakers
Small tweeters such as the Polk db1000 1" dome tweeters can be discretely mounted on the front of the dashboard in the corners, providing a surround sound. The speakers can be attached with Velcro so that no modification is required to the dashboard.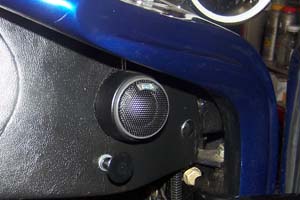 Polk db1000 1" Dome Tweeter
And of Course the Source of the Sound
Bulky tuners and CD players are a thing of the past. Front and rear jacks are provided for several types of the latest in compact auxiliary input including:
 Your iPod for thousands of your favorite tunes
 AM/FM radio tuners
 Sirus/XM satellite radio tuners
 Smart phone internet and cell broadcasts