The Event and Competitors
The Event
Last year we had David Sugg feeding stories and photos from his laptop and digital camera over a dial-up link during the event. This year a number of Second Strikers showed up along the way to cheer our guys on. They also shared their photos and stories with us. Many thanks to everyone who contributed time, photos, and stories.
The events began in upstate New York near Watkins Glen and wound 3,933.5 miles around the eastern half of the US and back to Watkins Glen for the final. All in all, there were 16 events at 7 tracks plus 3 required checkpoints.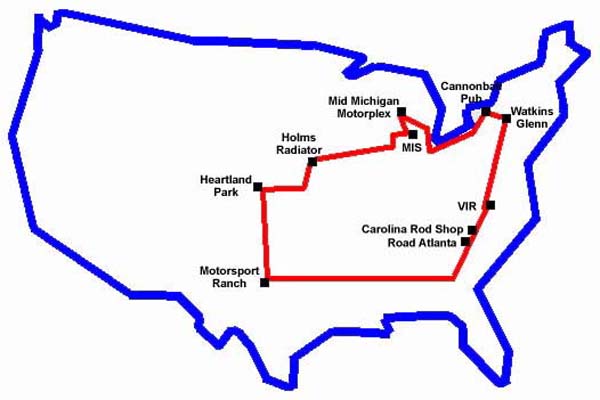 The events this year were:
| | | | | | | | |
| --- | --- | --- | --- | --- | --- | --- | --- |
| Event | Location | Type | City | Day | Start | Finish | Miles to Next Event |
| 1,2 | Watkins Glen | Time trial | Watkins Glen, NY | Saturday, May 5 | 11:00 AM | 5:00 PM | 92.5 |
| 3 | Cannonball Pub | Checkpoint | Wyoming, NY | Saturday, May 5 | 5:00 PM | 9:00 PM | 526.8 |
| 4,5 | Mid Michigan Motorplex | Drag Race | Stanton, MI | Sunday, May 6 | 9:00 AM | 11:00 AM | 126.2 |
| 6 | Michigan International Speedway | Time trial | Brooklyn, MI | Sunday, May 6 | 3:00 PM | 6:00 PM | 530.3 |
| 7 | Holms Radiator | Checkpoint | On the way | Sunday, May 6 | 2:00 AM CST | 3:00 AM CST | 269.5 |
| 8,9 | Heartland Park | Time trial | Topeka, KS | Monday, May 7 | 9:00 AM CST | 4:00 PM CST | 518.5 |
| 10,11 | Motorsport Ranch | Time trial | Fort Worth, TX | Tuesday, May 8 | 9:00 AM CST | 4:00 PM CST | 911.5 |
| 12,13 | Road Atlanta | Time trial | Braselton, GA | Wednesday, May 9 | 9:00 AM | 4:00 PM | 94.2 |
| 14 | Carolina Rod Shop | Checkpoint | Easley, SC | Wednesday, May 9 | 6:00 PM | 8:00 PM | 264.1 |
| 15,16 | Virginia International Raceway | Time trial | Alton, VA | Thursday, May 10 | 9:00 AM | 4:00 PM | 550.4 |
| 17,18,19 | Watkins Glen | Time trial | Watkins Glen, NY | Friday, May 11 | 9:00 AM | 5:00 PM | End |
By now every Second Striker should be well aware of the One Lap of America and the stunning successes that Second Strikers Dennis Olthoff, David Sugg, Doug Reed, Clay Gould, and Barry Kline have had in this most challenging event. For those few who haven't, a brief history and review of the event.
Beginning in 1971, Brock Yates sponsored a clandestine cross-country automobile rally named the "The Great Cannonball Baker Sea to Shining Sea Memorial Trophy Dash" or "Cannonball Run" for short. The event was named in honor of Erwin G. "Cannonball" Baker who with W.F. Strum drove a Type 53 Cadillac V-8 roadster from Los Angeles to New York City in 1916 in a record seven and a half days.
The Cannonball Run had no rules and no routes. The shortest time from New York to Long Beach won. By the time the elapsed time worked its way down to 33 hours, it was clear to everyone, including law enforcement officials along the way, that some serious speeding was taking place. So after nine events, it became a part of automobile racing history folklore.
After an appropriate period of mourning, it was replaced in 1984 with the "One Lap of America". The route, about 10,000 miles, was specified. There were no time constraints; so speeding was purely a personal choice. The winner was the team with the closest to the official route mileage. Legal, but hardly exciting.
In 1991, the One Lap adopted its current format patterned to a large part after the grueling Tour de France FIA competition. The competitors complete an approximately 4,000 mile lap of the US. Each day they stop at a track along the route for speed trials.
The speed trails are typically road courses. Cars are run in groups of five. Each group gets a single warm up lap. The cars are then staged and launched one at a time at approximately five second intervals. The elapsed time is typically for three laps from a standing start. This continues until all competitors have run. Then it is off to the next track. One track a day for seven days. Usually one of the events will be drag racing including best elapsed time and a bracket race.
Points are awarded for position in class and position overall for each event. The winner is the one with the most points at the end.
There are difficulties.
The time trials reward speed, braking, and handling. The long distances between tracks reward some degree of creature comfort for sleep. Both the time trials and drives between tracks require reliability and stamina. These requirements are in conflict. So the race goes to neither the swift nor the sure, but to the one who does both extremely well.
The requirement for reliability is so intense and the competition so good that a single DNS (did not start) or DNF (did not finish) will almost certainly knock a competitor out of the top ten overall and usually out of the top twenty.
There are potential difficulties on the track as well.
Although these are speed trials, one car against the clock, a spin by another car or overtaking a slower car can cost valuable seconds and knock a competitor way back in the standings for an event.
Then there is the weather. A track may be wet for part of an event and dry for the rest. The drivers in the wet take it in the shorts. Simply blind luck of the draw. But as they say, "that's racing!"
Classes
The classes listed in the rules this year are:
1. Sports/GT1 - Sports/GT cars over $35,000 (19 entries)
2. Sports/GT2 - Sports/GT cars under $35,000 (21 entries)
3. Mid-priced Sedan - Mid-priced sedans and wagons $15,000-$35,000 (12 entries)
4. Economy - Economy cars under $15,000 (7 entries)
5. Luxury - Luxury sedans and wagons over $35,000 (7 entries)
6. SUV - Sport/Utility vehicles and pickups all price ranges (6 entries)
7. Vintage American - Classic American: All domestically produced vehicles built prior to 1980, including street rods, specials, etc. (4 entries)
8. Vintage Imported - Classic Imported: All non-SVRA types built prior to 1980. (8 entries)
In addition to these classes, a "Super Tuner" class has been added primarily for cars from the aftermarket tuner companies. It has 5 entries.
Superformance Entries
Dennis Olthoff and Rick Lee in Superformance 308
Dennis Olthoff has entered the former PPG pace car, SP308, running the all aluminum 351W with Tremec T-56 6-speed from last year's Coupe entry. The engine is stroked to 408 CID and wears TFS-R heads. The co-driver is Rick Lee, a well experienced One Lap veteran who has co-driven a number of successful efforts in years past. With two drivers with this much proven experience, this car will be a contender. Dennis and Rick are entered in the Super Tuner class.

Photo taken at Dennis' successful outing at Amelia Island this spring.
SP 308 started life as a Yellow/Black Mk III. It spent a year as the PPG CART series pace car. During that time, it was fitted with a full roll cage, light bars, front and rear strobe lights, and under car exhaust (to keep the dignitaries from burning their legs), and a dazzling PPG custom paint job - the kind that changes color depending on the direction of the light. Unlike the Mystic Mustang Cobras, which had rather odd colors, this car switches from roughly Guardsman Blue to Malachite Green, both great colors (especially the Malachite Green).
The Olthoffs sold SP 245, "the Race Car", to Bill Ostrower, the New York Superformance dealer. So SP 308 has been prepared as the Olthoff's new "race car". It received its baptism under fire at Amelia Island earlier this year where it prevailed. The preparations for competition were relatively straightforward:
Removal of the custom light bar and strobes.

Removal of the full roll cage to allow fitting of the hard top.

Installation of a full width roll bar.

Installation of a hardtop.

Installation of a stiffer rear sway bar.

Upgrade to Wilwood brakes.

Upgrade to 17 inch rims for Michelin high performance tires required for One Lap

Fitting of all-aluminum 351W stroker engine

Fitting of Tremec T-56 six-speed transmission
As always, SP 308 remained an essentially stock Superformance Mk III with options available to any Superformance customer.
Specifications
The engine is essentially the same all-aluminum 351W stroker fitted briefly in the Superformance Coupe in last years One Lap. The specs for the engine are:
Ford Racing aluminum 4-bolt main block

TFS Twisted Wedge R aluminum heads

OHV 2-valves per cylinder

10.2 to 1 compression ratio

Bore x stroke 4.030 in x 4.00 in

Displacement 408 CID

Edelbrock single plane intake manifold

Holley 4-barrel carburetor

Holman Automotive solid lifter flat tappet camshaft

Horsepower: 550 at 6300 rpm

Torque: 470 at 5250 rpm

Redline: 6500 rpm
The transmission is a Tremec T-56 6-speed with the ratios for the 2000 Mustang Cobra R:
1st 2.97

2nd 2.04

3rd 1.43

4th 1.00

5th 0.80

6th 0.62
The rear end is the standard independent 8.8" Ford with the standard 3.73 ratio.
The tires are Z-rated Michelin Pilot Sports:
Front - 275/40ZR17
Rear - 335/35ZR17
Performance
With this setup, the speeds in gears are:
1st 45 @ 6500
2nd 65 @ 6500
3rd 93 @ 6500
4th 132 @ 6500
5th 165 @ 6500
6th 175 @ 5350
Projected acceleration is:
0-30 1.7 sec
0-60 3.8 sec
0-100 7.7 sec
0-150 16.5 sec
1/4 mile 11.7 sec at 131 mph
SP 308 was placed in the newly formed and top seeded Super Tuner class.
Dennis's co-driver this year was Rick Lee, a veteran One Lap co-driver.
Barry Kline and Jim Roxbury in Superformance 730
The other Superformance entry is SP728 driven by Barry Kline and Jim Roxbury. Barry and Jim ran in the Vintage American class on 2000 and are back in that class this year. SP728 is also running a 351W with Tremec 5-speed.

Photo taken at One Lap 2000.
Barry Kline is from Golden Valley, Minnesota where he owns and operates Winzer Automotive Products, a distributor of automotive and industrial fasteners and adhesives. Barry and Jim Roxbury have entered the One Lap for the past six years, 4 years in a Mustang and the past two years in SP 730. Barry serves as the primary driver and Jim serves as the head mechanic and co-driver.
Last year the car was brand new. Weather and circumstances prevented any pre-event shake out. The car ran well early on, but developed some new car teething problems. Barry and Jim took an early out to sort the car out. Barry and Jim returned this year to the "warm up" at Amelia Island ready to run.
Barry purchased his Superformance from Dynamic Motorsports in Ross, Ohio. SP 730 is all black and fitted with a black hardtop. Other than adjustments to spring and shock setting and a switch to slightly wider (1.25") Wilwood rotors, Barry and Jim have made no changes to the car. It is a is a pretty much stock Superformance Mk III.
Specifications
Competition Motorsports built his 351W stroker. The specs for the engine are:
351W cast iron block

Edelbrock aluminum heads

OHV 2-valves per cylinder

9.5 to 1 compression ratio

Bore x stroke 4.030 in x 3.875 in

Displacement 396 CID

Edelbrock Victor Jr. single plane intake manifold

Holley 4-barrel 750 cfm carburetor

Ford Racing A351 camshaft

Horsepower: 476 at 5400 rpm

Torque: 480 at 4600 rpm

Redline: 6100 rpm
Barry has a shift light at 6000 rpm and a rev limiter at 7000 rpm. He shifts just after the light comes on.
The transmission is the ubiquitous Tremec 5-speed. However, Barry's is fitted with the optional 5th gear that replaces the 0.68 ratio with a 0.83 ratio. The 0.83 ratio shrinks the huge gap between 4th and 5th and makes 5th a useful competition gear.
1st 3.29
2nd 1.96
3rd 1.34
4th 1.00
5th 0.83
The rear end is the standard independent 8.8" Ford with the standard 3.73 ratio.
The tires are Z-rated Michelin Pilot Sports:
Front - 275/40ZR17
Rear - 315/35ZR17
Barry started out with 335's, but they rubbed so he switched to 315's.
With the short 35 series tires and the tighter 0.83 5th gear, Barry feels that the car is actually geared too low. It is seriously traction limited in 1st and 2nd and runs up against the shift light easily in 5th.
Performance
With this setup, the speeds in gears are:
1st 37 @ 6100
2nd 62 @ 6100
3rd 91 @ 6100
4th 122 @ 6100
5th 155 @ 6500
Acceleration is:
0-30 1.7 sec
0-60 3.8 sec
0-100 8.3 sec
0-150 21.9 sec
1/4 mile 12.0 sec at 122 mph
Barry and Jim were initially placed in the Super Tuner class, but when Barry produced a 1965 registration, they were switched to Vintage American.
Top Seeds
The top seeds this year are dominated by entries from the Super Tuner and Sports/GT1 classes. Both Superformance cars are in the top 10 seeds. This is familiar territory for the Olthoff/Lee team, but it must be heady territory indeed for Kline and Roxbury.
Number

Entry and Drivers

Class

1

1999 Mercedes RENNTech CLK 60 GT
Dan Kary, Greene, ME
Paul Gerrard


Super Tuner

2

1997 Superformance Mk III

Super Tuner

Dennis Olthoff, Mt. Ulla, NC

Rick Lee, Seymour, IN

3

1999 Renn Tech Mercedes Benz C43

Super Tuner

Arpad Papp Ft. Lauderdale, FL

S. Scott Stamper

4

1965 Superformance Mk III

Vintage American

Barry Kline, Golden Valley, MN

James Roxbury, Princeton, MN

5

2000 BMW Dinane-MZ

Super Tuner

Mark Love, Calgary, Alberta

Reg Riemer, Calgary, Alberta

6

2000 Chevrolet Mallett Corvette

Super Tuner

Ted Hughes, Seward, NE

Barry Konken, Hartington, NE

7

1995 BMW M3

Sports GT/1

Russ Wiles, Sioux Falls, SD

Mike Bartley, Brookings, SD

Tim Peterson, Watertown, SD

8

1996 Dodge Viper

Sports GT/1

Ronald Adee, Gilberts, IL

Pat Adee, Lakeville, MN

9

1997 Viper

Sports GT/1

Jerry Churchill, Dearborn MI

Bill Evans, Walled Lake MI

10

2000 Dodge Viper ACR

Sports GT/1

Spencer Geswein, Laurens, SC

Brian Smith, Simponsville, SC
Competitors in Our Classes
All of the Super Tuner cars are in the top 10 seeds above.
The Vintage American entries are:
Number

Entry

and Drivers

Class

4

1965 Superformance Mk III

Vintage American

Barry Kline, Golden Valley, MN

James Roxbury, Princeton, MN

56

1980 Chevrolet Camaro Z-28

Vintage American

Michael Hickman, Hamden, CT

Tom Bertino, North Branford, CT

57

1963 Chevrolet Corvette Grand Sport


Aaron Quine, Tallmadge, OH
William Hoskins, Akron, OH

Vintage American

58

1965 Ford Mustang

Vintage American

George Batejan, Berkeley Heights, NJ

Steven Smotrich, Belle Mead, NJ