The Competitors
There were a record 102 entrants in this years One Lap. In an event that historically goes to the strong, there were a number of strong contenders.
1995 BMW 318ti (#17)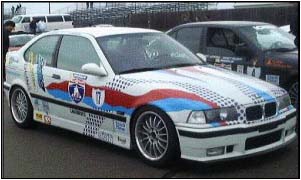 Class: MidPri Sed
Driven by Catesby Jones, Pompano Beach FL, and Peter Klein, Deerfield Beach FL.
Very trick. A BMW fan's dream machine. The 1995 BMW 318 is about the lightest late model BMW you can find, weighing in at a svelte 2,680 pounds. A great place to start when building a BMW based screamer.
The engine was replaced with the hottest 3 series engine - the 3.2 liter M3. The M3 produces 321 horsepower in European trim, but add a turbocharger and this lightweight special produces 430 horsepower.
Mallet Corvette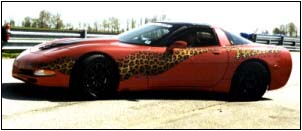 Class: SSGT1
#1 driven by Chuck Mallett, Berea OH, and Jim Minneker, Rochester
#2 driven by R. K. Smith, Rancho Santa Fe CA, and Michael Seymour, Las Vegas NV
#8 driven by Lance Mallett, Middleburg Heights OH, and Dean Hoover, Noblesville IN
#9 driven by Michael Petersen, Las Vegas NV, and Dale White, Las Vegas NV
There were six Mallet Corvettes in all.
The Mallet Corvette is produced by Mallet Cars Ltd. of Berea, Ohio. The Mallet brothers, Chuck and Lance, and long time associate Dave Sarafian founded Mallet Cars Ltd. Their goal is to produce the fastest, highest-quality signature series 5th generation (C5) Corvettes available anywhere.
Mallet has entered cars in 1997 and 1998 and fielded six specially prepared Mallet Corvettes in the 1999 event. This year was supposed to be the "year of the Corvette".
The cars were based on the Mallet 435; C5's with engine modifications producing 435 horsepower plus suspension and brake upgrades. A fully prepped Mallet C5 goes for about $95,000, including the Corvette. Mallet rates the 435's quarter mile performance at 11.996 seconds at 117.38 mph. Top speed is rated at 190+ mph.
The One Lap cars were additionally fitted with Vortec superchargers to produce nearly 550 horsepower.
1997 Mosler Raptor (#5)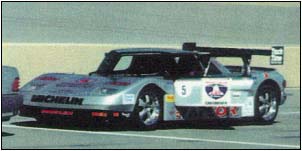 Class: SSGT1
Driven by Rick Lee, Seymour IN, and Kevin Wesley, Holt MI
Warren Mosler made a bundle in the bond market in the 1980's and with the gains founded Consulier Industries in 1985 with the objective of building "the world's number one U.S. legal performance car."
The company, now Mosler Automotive, has produced the requisite 100 Consuliers. The Consulier is designed to be a lightweight, high performance, street legal car and is based on a Mosler built fiberglass and PVC foam monocoque chassis. Mosler's Consulier based cars have a long and successful competition history.
In 1987, he replaced the turbocharged Chrysler 4-banger with a Lingenfelter built Chevrolet small block in four cars. One was sold as an Intruder, one is being developed as a GT1 car, and two became Raptors. The split and sharply peaked front windshield gives the Raptor its distinctive look and its name.
The Raptor is a mid-engined, rear drive two seat coupe. The Lingenfelter engine pumps out 443 horsepower from 383 cubic inches which is enough to propel the 2773 pound Raptor through the quarter mile in an estimated 12.2 seconds at 119 mph. The huge rear wing produces enough drag to limit top speed to 165 mph.
Raptors are available from Mosler for $159,000.
The Raptor took overall honors at the 1996 and 1997 One Lap of America.
1998 Lamborghini Diablo (#10)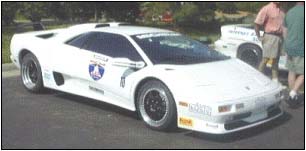 Class: SSGT1
Driven by Shane Lewis, Jupiter FL, and Bob Mazzuocola, Staten Island NY
The Lamborghini was entered by owner Bob Mazzuocola and driven by professional driver Shane Lewis, normally associated with the Mosler team.
The Lamborghini is a mid-engined, rear drive exotic propelled by a 492 horsepower DOHC 48-valve 349 CID all-aluminum V12. A bit of a tank at 3467 pounds, it is nevertheless capable of a 11.9 second quarter mile at 125 mph and the sleek low drag shape helps it achieve a top speed of 205 mph.
For $239,000, you can have one for your self.
1998 Mitsubishi Lancer (#61)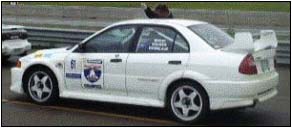 Class: SSGT2
Driven by Jeff Denmeade, Bristol CT, Peter McKay, Sydney Australia, and Andy Kauger, Orange CT.
Not your standard Mitsubishi, this is an Australian Mitsubishi Lancer turbo rally car - four wheel drive, nearly 300 horsepower, and very trick.
It made it off the boat just in time to get to the starting grid. And it did well, particularly in the wet.
1975 Porsche 911 Carrera (#7)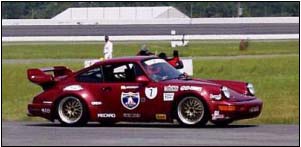 Class: Vint For
Driven by the husband and wife team of Gary and Paddi Griffiths, Pt. Claire QB.
Also very trick and a Porsche fan's dream. Start with the lightweight 1975 body and add a screaming twin turbo engine.
No statistics were available for this hand built car, but twin turbo Porsches are capable of producing 400 reliable, streetable horsepower. In a lightweight body, this could product quarter mile times of 11.7 seconds at 128 mph and a top speed of 190 mph.
1994 Mercedes Renntech SL600 (#3)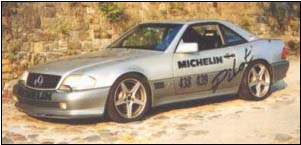 Class: SSGT1
Driven by Dan Kary, Greene ME, and Kim Crumb, Minneapolis MN.
Hartmut Feyhl, formerly with super tuner AMG of Germany, has set up shop in Florida as RENNtech Performance tuning. His modified Mercedes are fast, reliable, and beautiful. The first two are certainly important in the One Lap contest.
The engine is bored and stroked from 6.0 liters to 7.4 - 452 CID! Horsepower is rated at a staunch 585 at 6000 rpm. Weight is reduced by 400 pounds. Suspension, brake, and cosmetic modifications round out the package. A fully modified RENNtech SLR7.4 will set you back around $335,000.
Superformance Mk III - SP116 (#87)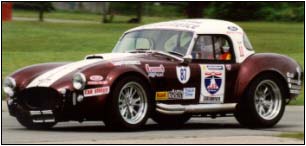 Class: Vint Amer
Driven by Dennis Olthoff and Doug Reed
The Superformance entry in the One Lap bubbled up some time this past winter. It wasn't a cabin fever thing - it's not that cold in either North Carolina or New Orleans. Maybe it was one of those guy things.
In any event, Doug Reed from Superformance South in New Orleans supplied the car and Bob and Dennis Olthoff from Bob Olthoff Racing in Salisbury, North Carolina, supplied the engine and the construction. What is so special about this car is that there isn't anything really special about it. The car was built with standard parts that are available to any Superformance buyer. The Olthoffs will build anyone that wants one an exact duplicate for $55,000 without the hardtop.
The car is a 1996 vintage Superformance Mk III that belonged to one of Doug's customers. A collision busted the nose and it wound up back in Doug's hands. Now Doug also has a body shop, so it was an inside job to fix it up. Doug painted it metallic Bordeaux - the same color as his truck and trailer (more or less). This spring, about 6 weeks before the One Lap kicked off, Doug towed it up to Salisbury and left it with the Olthoffs.
The Olthoffs put the car together with parts right off the standard list. The engine is a standard 396 stroker 351W. The intake was upgraded with an Edelbrock Victor Jr. single plane manifold and a Holley Pro Series 750 double pumper. A MSD 6AL ignition was fitted, as was a 14" SVO air cleaner.
The transmission is the standard Tremec TKO 5-speed. The standard 8.8" independent rear end was fitted with an optional 3.27 gear set and an optional Torsen limited slip unit.
The optional high performance Wilwood brakes were installed. The Tires are Michelin Pilot SX as required by the rules. The fronts are 275/40-17 on PS Engineering 17x9 rims. The rears are 335/35-17 on 17x11 rims. The rear suspension was upgraded to current specs. The suspension settings were adjusted to reduce ride height 1.5 inches.
As a final touch, the car was fitted with the first prototype of the new Superformance hardtop. The car was finished in time to put a hundred break-in miles on it before leaving for Ann Arbor. A virgin off to do battle with the veterans.
Specifications Comparison
| | | | | | | |
| --- | --- | --- | --- | --- | --- | --- |
| Car | #17 BMW | #1 Mallet | #5 Raptor | #10 Lambo | #3 RENNtech | #87 Mk III |
| Cost | (1) | $95,000 | $159,000 | $239,000 | $335,000 | $55,000 |
| Curb Weight | 2820 | 2950 | 2773 | 3467 | 4096 | 2535 |
| Wt Dist F/R | 50/50 | 51.5/48.5 | 39.5/60.5 | 41/59 | 54/46 | 50/50 |
| Wheelbase | 106.3 | 104.5 | 117 | 104.3 | 99 | 90 |
| Length | 174.5 | 179.7 | 180 | 175.6 | 178 | 152 |
| Width | 67.3 | 73.6 | 74 | 80.3 | 71.3 | 69 |
| Height | 53.8 | 47.7 | 45.5 | 43.5 | 50.9 | 48 |
| Engine | I6 - Front | V8 - Front | V8 - Mid | V12 - Mid | V12 - Front | V8 - Front |
| Displacement | 192 | 373 | 383 | 349 | 451 | 396 |
| Valve Gear | DOHC 4V | OHV 2V | OHV 2V | DOHC 4V | DOHC 4V | OHV 2V |
| Intake | EFI, turbo | EFI, blower | EFI | EFI | EFI | 4 bbl |
| Horsepower | 430 | 550 | 443 | 492 | 585 | 475 |
| Transmission | 5 M | 6 M | 5 M | 6 M | 4 A | 5 M |
| Quarter Mile | 12.0 @ 128 | 12.1 @ 128 | 12.2 @ 119 | 11.9 @ 125 | 12.5 @ 119 | 11.9 @ 123 |
| Top Speed | 200 | 205 | 165 | 205 | 193 | 165 |
Specifications are based on best available information. Performance numbers are estimates, but reasonable ones, I believe.
Note (1): Goodness gracious only knows. This is a one off special.
Click on "Michigan" to continue...